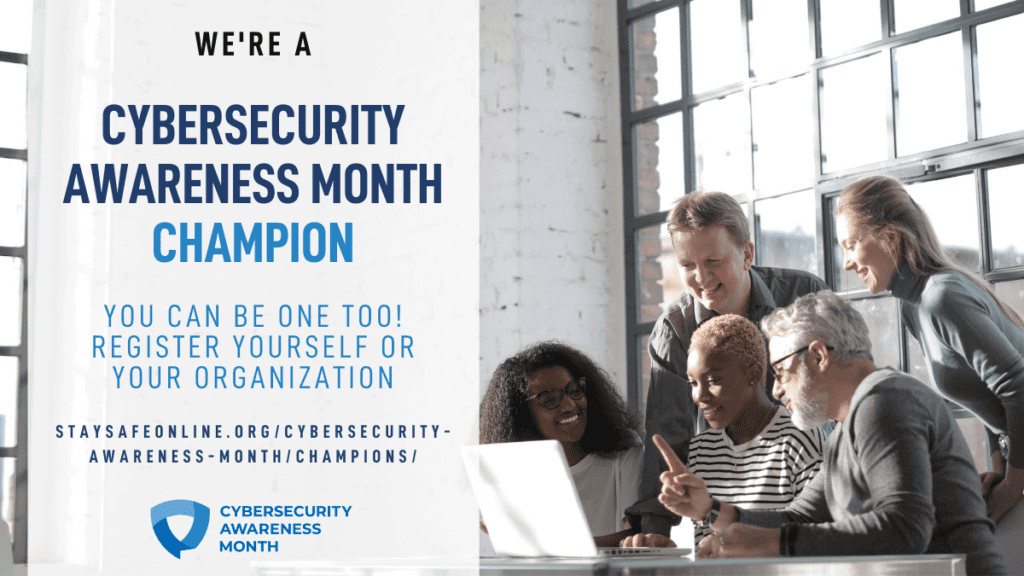 It is that time of year again! No, not Christmas, although it is just around the corner. I am talking about National Cybersecurity Awareness Month! October 1st is the kickoff for 2021 and the theme again this year is Do Your Part. #BeCyberSmart. The goal of Cybersecurity Awareness Month is to raise awareness about the importance of cybersecurity and to make sure that all individuals and organizations have the information and tools they need to be safer and more secure online.
You can become a Cybersecurity Champion for your business, your community and your family. Want to know how? Listen to Episode 318 of The Help Me With HIPAA podcast and Donna and David will explain just how to become a Cybersecurity Awareness Month Champion.
There are lots of reasons you would want to become a Champion. For one, it is FREE. Really… Free, Free, Free, Free. Once you register to become a Champion you will receive a Cybersecurity Awareness Month 2021 Toolkit. This toolkit has an overview of what the Cybersecurity Awareness Month campaign is all about along with ways to create your own activities and events. It comes with free social media graphics and even example social media posts. It also includes sample articles for each of the weekly themes along with sample emails you can send to employees and much more.
Each week in October, the National Cybersecurity Alliance will roll out a new focus to help organizations and individuals to be safer and more secure online.
Week of October 4: Be Cyber Smart
Week of October 11: Fight the Phish
Week of October 18: Explore. Experience. Share – (Cybersecurity Career Awareness Week)
Week of October 25: Cybersecurity First
Still on the fence about participating in National Cybersecurity Awareness Month? Well, check out the National CyberSecurity Alliance resources library and listen to how excited David and Donna are in the Are You Cyber Smart 2021?, Episode 318, of The Help Me With HIPAA Podcast.