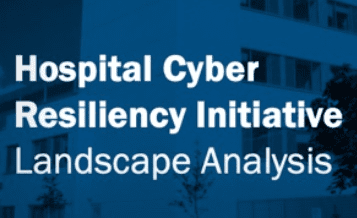 Donna and David give us a big picture view of the recently released Hospital Cyber Resiliency Initiative Landscape Analysis in the Help Me With HIPAA podcast episode Cyber Resiliency Landscape – Ep 407. This is an analysis done by the HHS 405(d) task group and focuses on evaluating the healthcare sector's preparedness and resilience against cyber attacks. The initiative aims to assess whether healthcare organizations are implementing the recommended safeguards outlined in the Health Industry Cybersecurity Practices (HICP) and how these practices are holding up against cyber threats.
The analysis points out that threat actors have become more advanced, fast, and organized in their attack methods. Cybersecurity is an ever-evolving field, and the threat landscape is constantly changing. If an organization has not made any updates or improvements to its cybersecurity practices in a year or more, it is highly likely that they are falling behind and leaving themselves vulnerable to new and emerging threats. Hackers and cyber criminals continually develop new techniques and exploit vulnerabilities, which means that cybersecurity measures need to be regularly updated and enhanced to keep up with these evolving threats. This includes implementing the latest security patches, regularly assessing and testing systems for vulnerabilities, and adopting recognized security practices, such as HICP.
To address the threats, the analysis explores the link between specific threats and mitigation strategies, offering practical tips to align with best practices and reduce vulnerabilities. It provides real-world examples of how these threats can impact both the business side of healthcare organizations and most importantly patient care.
If you're interested in hearing an overview of the Hospital Cyber Resiliency Initiative Landscape Analysis, listen to Cyber Resiliency Landscape – Ep 407 of the Help Me With HIPAA podcast. Donna and David both highly recommended reading the document itself to access the comprehensive recommendations for ensuring the security of patient care.